It is an honor and a pleasure to speak to audiences and organizations. Every individual – and therefore the organizations they are a part of – can benefit from discovering their strengths, courage, and capacity for change.
For more than 30 years, I have had the privilege of helping people get unstuck. When I say my career has been rewarding, that barely communicates the richness of the experience of being there for another human being.
The resilience of the human spirit never ceases to amaze me.
This is the foundation of my work helping people and organizations get – and stay – unstuck.
Darlene has a dual degree in Psychology and Urban Studies. In addition, received her masters' degree from Boston University. She has been a licensed therapist in the State of MA for over 20 years.
Darlene  is an active member of several industry associations, including the National Speakers Association where she is now an Ambassador.  In addition,  she is pleased to be serving on the Board  of Directors of NSA New England for the next year.
Darlene has been published in The Huffington Post. Her upcoming book Stop Depriving The World of You is scheduled for publication in November 2018, by Sound Wisdom Press.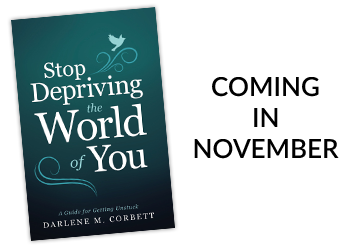 You are a gifted speaker and possess a wonderful ability to connect with a diverse audience. Ilene Swartz